Ross King
Introduction
King was likely born at Tertowie House in a village of Tertowie, Aberdeenshire, Scotland. He joined the 74th Highlanders Regiment of Foot, probably as an ensign, about 1840. He is known to have served as an officer in Canada, South Africa and in India.
The record of the Regiment during King's active service indicates that the 74th served a tour of duty in Canada, arriving at Quebec in 1841 and arrived back in England in 1845. Further postings included the Cape Colony in 1851-1854 followed by long service in India from 1854-1863. After a return to England, the Regiment served at Gibraltar (1868), Malta (1872), and the Straits Settlements and Hong Kong (1876-1879), returning to England in 1880.
Information from Ross King's gravestone indicates that he was perhaps best known for his presence in every engagement in the Kaffir war of 1851-3 and honourably mentioned in dispatches and general orders with medal. Before retiring to Tertowie, likely about 1880, King had reached the rank of Colonel. King, who married twice, was buried in nearby Blackburn, Aberdeenshire.
Tertowie House was the ancestral home of the King family, several of whom enjoyed distinguished military careers. Ross King was distantly related to William King (1650-1729) Archbishop of Dublin (1703-1729). From the 13th century King's ancestors were known to have lived at Barra Castle, a famous heritage property northwest of Aberdeen.
King wrote numerous books about his experiences while service overseas including:
King had achieved the rank of Major in 1866 when he published his book about his youthful experiences in Canada. An examination of his book suggests that during his three year tour of duty King may have been stationed for an extended period in the Niagara region of Upper Canada.
Sportsman is very much a British officer's experience of writing about his hunting adventures in Canada. King, a Victorian gentleman, seems to have devoted a lot of his spare time to observing and hunting wildlife. The content of his book shows a strong interest in hunting game mammals, game birds and sport fishing. The popularity of his book is evident in the many subsequent editions.
The longevity of interest is likely explained by King's attention to detail to each animal's ecology including information about its habitat, diet and its ability to evade the determined hunter.
Chapters Five through Eight are devoted to Canadian Birds. Chapter five introduces some common birds of the forest, chapter six to grouse, quail and wild turkey, chapter seven to shorebirds and chapter eight to swans, geese and ducks.
The content of King's chapters on birds adds little to what was known about Canadian birds. On the other hand this book takes on more importance when it becomes apparent that King's period of residence, 1841-1845, lies between the death of Charles Fothergill in 1840, and the great advancements in ornithological research which were undertaken in Toronto and Hamilton in the 1850s.
King wrote extensively on the Passenger Pigeon (p. 121-125). Margaret Mitchell in her pioneering work The Passenger Pigeon in Ontario wrote that "The reminisces of King (101) contain one of the best accounts of a flight of pigeons" (p. 20) and quotes extensively from Sportsman.
King's longest monograph is saved for the Wild Turkey (p. 125-139). It is an important early life history of this Canadian bird species.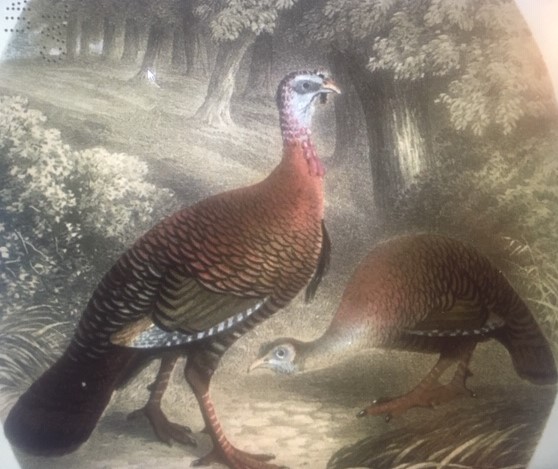 Hanhart Chromolithograph Image. Wild Turkey from The Sportsman and Naturalist in Canada Biodiversity Heritage Library
Below are a few excerpts randomly taken from Sportsman that provide some interesting comments on Canadian ornithology in the 1840s:
Observation of a Swallow-tailed Kite in the Niagara area (p. 108)
I was fortunate also in twice seeing during an unusually hot summer the somewhat rare swallow-tail or musquito-hawk,* in the neighbourhood of St. Davids, soaring in pursuit of insects, and performing the most singular and graceful evolutions. It has a most beautiful black and white plumage, with very elegant form, and is not often seen in such high latitudes, being peculiar to the Southern States. * Nauclerus furcatus.

Note: King was a keen observer. Readers of Sportsman are likely to accept this early 1840s first record for Ontario and Canada.
Observation on the identification of Curlews (p. 180)
The Long-billed Curlew (Numenius longirostris) is also very abundant, but it varies so greatly in size, colour, and length of bill, that different specimens have often been mistaken for different species or varieties.

The Esquimaux Curlew (N. borealis of Latham, not of Wilson) is smaller and has a shorter bill than, the above, nor is it so common. The upper parts are brownish black, marked with dull yellow; the under parts grey, with a reddish tinge; the neck, breast, and sides are barred with dark brown. The tail is brown, with black bands, and the bill dark and rather yellow at the base; the legs dirty green.

Note: These observations parallel similar observations from Quebec claiming observations of Long-billed Curlews in that province as well. King's discussion suggests that there was confusion in separating the Long-billed Curlew from the Whimbrel.
The Status of Hunting Waterfowl in Canada (p. 186)
Of the numbers that take their flight straight across the country it is difficult to form more than a very vague idea, but the writer in question, computing it at probably two-thirds or more of the former quantity, estimates the flocks that annually pass over the continent at not less than 2,000,000, without including the Brent geese, which are neglected by the Indian tribes generally. Besides this enormous number of geese, the Swans and the majority of the two great divisions of True and Oceanic Ducks, also breed either in the extreme north of Canada, and the Hudson's Bay territories, or just within the arctic circle; and also migrate with their grown-up families in the autumn to the Southern States and the Atlantic coast, returning northward again in the spring; thus traversing the whole of Canada twice annually.. Hence it is that Canadian wildfowl shooting is perhaps the best in the world, and in the former of these two - seasons especially, no sport could be more delightful.

Key Sites for Shooting Waterfowl in Quebec and Ontario (p. 187)
Many localities are noted year after year as being especially resorted to during these migrations: a circumstance which may be accounted for as well by the nature and abundance of the food and shelter they afford, as by the fact that the Anatidae generally, unless systematically disturbed, will annually seek food and rest at the same halting-places along their route.

As instances, Green Island, Cacouna, and other places in the Lower Province; Long Point Island on Lake Erie; Turkey Point, nine or ten miles from it; Burlington Bay, on Lake Ontario; Baptiste Creek, and last, though not least, the St. Clair River, have long enjoyed their present fame. At the latter, Captain Strachan of Toronto, a well known sportsman, with only one other gun, lately killed no less than four wild swans, ten wild geese, and 685 ducks of different kinds in sixteen days. The variety, too, of the wildfowl in these and a hundred other places is most remarkable, and whether with the naturalist or mere sportsman adds immensely to the pleasure of the day's shooting.

Origin of the word for Scaup Duck (p. 219)
The origin and meaning of the term Scaup have been variously accounted for, and we have no less than three different derivations given by as many naturalists, though that of Yarrell is no doubt the true one. He says,* "beds of oysters and mussels are in the north called 'oyster-scawp' and ' mussel-scawp,' and from feeding on these shell-covered banks the bird has obtained the name of Scawp-duck." * British Birds, iii. 344.

Chapter eight (p. 185-239), contains an extensive paper devoted to swans, geese and ducks. It is a particularly engrossing read to ornithologists interested in the historical population and distribution of species of Canadian waterfowl in Ontario and Quebec in the 1840s.
Bibliography: