Elizabeth Simcoe
(1762-1850)
Introduction
Elizabeth Posthuma Gwillim Simcoe was born in Northamptonshire England. Her father, Thomas Gwillim was a British army officer who served with Wolfe at Quebec. He died in the year of her birth of unknown causes. Her mother, Elizabeth Spinkes Gwillim, died giving birth to Elizabeth. Elizabeth was raised by her mother's sister Margaret Spinkes, who married Admiral Samuel Graves.
The Gwillim family came from landed gentry. Her step-parents ensured that she received an education suitable to her class which included an introduction to the natural world and lessons in drawing and painting. In 1782 Elizabeth married Admiral Graves' godson, army officer, John Graves Simcoe (1752-1806).
Other relatives of the extended Gwillim family included Elizabeth Symonds Gwillim (1763-1807), wife of prominent English lawyer, Henry Gwillim. They lived in Chennai (Madras) for a number of years in the early 19th century. Like her namesake Elizabeth was also highly educated and took a strong interest in the natural world, drawing and painting. She is known today largely for over 200 critically acclaimed paintings of Indian birds which form part of the bird collection in the Blacker-Wood Library of Ornithology and Zoology at McGill University.
In 1791 the British government decided to separate Canada into the provinces of Upper and Lower Canada. John Graves Simcoe was appointed the first Lieutenant Governor of Upper Canada. The Simcoe family left England for the posting in September, 1791. They remained in Canada until 1796.
Elizabeth Simcoe was a well-educated and knowledgeable amateur naturalist. Fortunately she kept a Diary of her sojourn to Canada. Her entries occasionally cited flora and fauna that she encountered. Her notes represent some important early first-hand observations of birds in Upper Canada. These observations can be found in the Elizabeth Simcoe paper under 18th century Ontario.
During her Atlantic crossing Elizabeth wrote in her Diary observations of petrels and shearwaters off Newfoundland. Off Nova Scotia she made additional observations which resulted in two watercolour paintings of birds. These events are set out below:
Grand Banks off Newfoundland
On October 24th off the south coast of Newfoundland, she noted "Number of gulls, shearwaters and Mother Carey's chickens (storm-petrels species) flying about." The crew captured a shearwater which she describes as follows:
The shearwater is a bird measuring 15 inches in length, 31 inches in breadth. It has a black and yellow bill, white under wings and body, back and tail black, found on waters all over the world.

Unfortunately it is not possible to positively identify this shearwater. Based on size, upper and lower body colourization the description strongly suggests Manx Shearwater. This bird is common in Britain and the northwest Atlantic in summer and fall. Unfortunately no reference book shows any yellow on the bill. The only other possibility is Cory's Shearwater which is the only shearwater with extensive yellow on the bill. The Cory's Shearwater is a much larger bird. It is much less common in the northwest Atlantic with uniform plumage on the back which tends lighter than the Manx.
Nova Scotia
On October 26th 1791, east of Sable Island, Nova Scotia, numerous small birds took refuge on the ship. Mrs. Simcoe sketched two of them, clearly identifying them as Snow Bunting and White-winged Crossbill.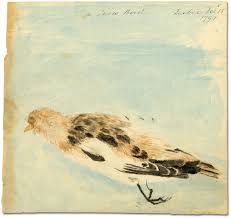 Watercolour of a Snow Bunting by Elizabeth Simcoe collected on October 26, 1791. Sketch rendered in Diary: 46. Watercolour painted at Quebec. Archives of Ontario.
On the 27th near Sable Island, in her Diary: 47 she noted a Boreal Owl:
Winds N. E. A beautiful owl, olive colour, with white spots and black about the face, was caught today. He was not larger than a thrush and not wild..

These observations are the first recorded evidence of these three birds in Nova Scotia.
Her original artwork of Snow Bunting and White-winged Crossbill painted at Quebec in 1791, are rare examples of 18th century Canadian ornithological artwork actually painted in Canada.
Bibliography
Simcoe, Elizabeth. John Ross Robertson edit. 1911. The Diary of Mrs. John Graves Simcoe: wife of the first Lieutenant Governor of Upper Canada. 1792-6 with notes and a biography. Toronto: William Briggs