The Colnett Expeditions
(1787-1791)
James Colnett (1753-1806) was born in 1753 in Devonport, Devon. He joined the Royal Navy as an able-bodied seaman in 1770. Promoted to midshipman in 1771, he served in British waters with Capt James Cook after Cook's return from his first voyage. Colnett accompanied Cook on his second circumnavigation of the world in 1772-1775.
Colnett saw service in the American War of Independence rising to the rank of first lieutenant. In 1786 he went on half pay and accepted an offer to lead a private fur-trading expedition to the Pacific Northwest. The expedition, which consisted of two ships, was undertaken between 1786 and 1788. In 1787 Colnett visited Nootka on Vancouver Island. He sailed north to Haida Gwaii (Queen Charlotte Islands) and Anchorage, Alaska, and wintered in Hawaii. In 1788 Colnett returned to the Pacific northwest starting in Alaska and sailed south to Haida Gwaii He then sailed to China where he the sold the furs for a large profit. Colnett was one of the first Europeans to land on Haida Gwaii. After the first expedition Colnett remained in China from where he took command of a second fur trading expedition between 1789-1791. This venture also comprised two ships and was undertaken with the financial assistance of John Meares with tacit backing of the Royal Navy and the British government. The main purpose was to set up a permanent trading post at Nootka. This led to a confrontation with the Spanish. Colnett was arrested and imprisoned in Mexico. This incident resulted in the Nootka crises discussed elsewhere in this section.
During the two expeditions Colnett kept a Journal the contents of which was not known until recent times. His account of the first voyage, A Voyage to the North West Side of America: The Journals of James Colnett 1786-89, edited by Robert Galois, was published in 2004. An account of the second voyage was published by the Champlain Society in 1940 entitled The Journal of Captain James Colnett Aboard the Argonaut from April 26, 1789 to Nov. 3, 1791. A complete copy of the Journals entitled the James Colnett's Journals MS 151 is held by the Royal British Columbia Museum and Archives.
The ship's surgeon on the first expedition was well-known British botanist Archibald Menzies. Menzies was a protege of British naturalist, Joseph Banks. Menzies visited Nova Scotia between 1784 and 1786. Layland noted that Colnett occasionally mentioned plants, mammals, birds, fish and crustaceans. He also drew numerous coastal maps and occasionally birds, probably collected by Menzies. Layland in his In Nature's Realm. Early Naturalists Explore Vancouver Island. suspected that Menzies may well have encouraged Colnett's interest in observing and recording nature. During his visit to Nootka in 1787 Layland (Realm: 45-46) includes the following passages that Colnett noted in his Journal:
Birds are not very numerous & very Shy, Crows [Northwestern Crow] , Ravens [Common Raven], King Fisher [Belted Kingfisher], wood peckers, a bird like the English Hedge Sparrow [unidentifiable], Swallows, a small bird of a dirty green colour [unidentifiable], sand Piper, Humming birds and Pigeons [Band-tailed Pigeon].

Sea & water Birds are found in no great plenty & are the Quebrantehuesses, Gulls, Shags, Divers and wild Ducks.

Noted British Columbia ornithologist, Theed Pearse (1871-1971), a member of the British Ornithological Union, researched the literature of expeditions to the Pacific Northwest looking for references to birds recorded. In 1968 he published a book Birds of the Early Explorers in the Northern Pacific. Stuart Houston wrote a short biography of Pearse for the Biographical Dictionary of American and Canadian Naturalists and Environmentalists (p. 615-616). Houston commented: "He published 103 papers in Murrelet, Condor, and Auk....His book...representing fourteen years of research, appeared when he was niinety-seven years old."
Pearse suggested that Colnett's "Quebrantehuesses" were Short-tailed Albatrosses. Pearse's book was reviewed somewhat unfavourably in The Wilson Bulletin and The Canadian Field-Naturalist. In my analysis of Pearse's work I have found many of Pearse's identifications speculative and based on flimsy documentation. It seems likely, however, that Pearse correctly identified the Albatross which appears to have been the commonest species in Pacific northwest waters in the 19th century. For further discussion on Pearse and the Short-tailed Albatross identification please see the Cook paper.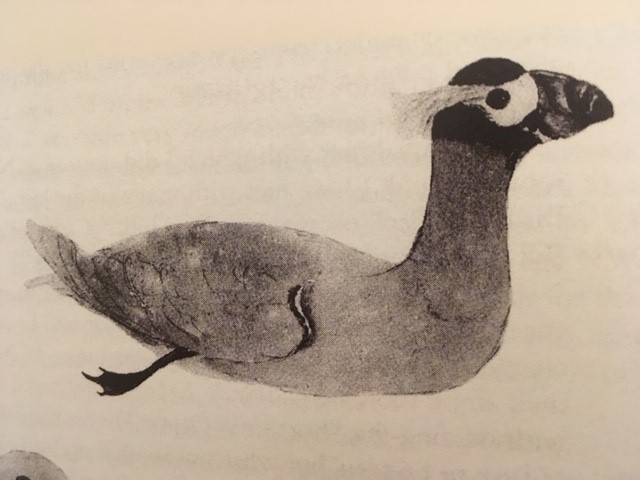 Adult Tufted Puffin. James Colnett's Journals MS 151. Royal British Columbia Museum and Archives. Image taken from Layland In Nature's Realm. Early Naturalists Explore Vancouver Island.
Colnett's descriptions are not unusual for the era but they are generally too vague to identify the birds he mentions in passing. Of more interest is a series of attractive Colnett sketches reproduced in Michael Layland's book which easily identify the following birds he collected:
Harlequin Duck, adult male
Bufflehead, adult male
Tufted Puffin, adult
Pigeon Guillemot, winter plumage
Steller's Jay, adult
At this time is is not known if any of these sketches of the birds were collected in British Columbia. They are not included in the list of illustrations published in the second Colnett expedition which I have examined. It seems likely, given the difficulties Colnett encountered on the second visit to Nootka that they were sketched in the Journal of the first expedition. Unfortunately I do not have full access to it or the full copy held by the Royal British Columbia Museum and Archives.
Hopefully further examination of the Colnett's first expedition Journal will clarify where they were collected.
Bibliography
Colnett, James. 2004. Edit. Robert Galois. A Voyage to the North West Side of America: The Journals of James Colnett 1786-89. Vancouver: University of British Columbia Press https://books.google.ca/books?id=z10IhL1B0OoC&printsec=copyright&redir_esc=y#v=onepage&q&f=false. Note: most pages to p.100; missing to page 441
Colnett, James 1786-1791. James Colnett's Journals MS 151. Victoria: Royal British Columbia Museum and Archives.
Colnett, James. 1940. The Journal of Captain James Colnett Aboard the Argonaut from April 26, 1789 to Nov. 3, 1791. Toronto: The Champlain Society https://open.library.ubc.ca/viewer/bcbooks/1.0388548#p8z-5r0f
Crosby, John. 1972. Book Review. "Birds of the Early Explorers in the Northern Pacific" The Canadian field-naturalist 86: 188. Ottawa: Ottawa Field-Naturalists Club
Gough, Barry M. Colnett, James. 2003. Dictionary of Canadian Biography, Volume V (1801-1820). Toronto/Quebec: University of Toronto/ Universite Laval http://www.biographi.ca/en/bio/colnett_james_5E.html
Houston, Stuart. Edit Keir Sterling et al. 1997. Pearse, Theed: Biographical Dictionary of American and Canadian Naturalists and Environmentalists. Westport Conn: Greenwood Press
King, Warren B. 1970. Book Review. "Birds of the Early Explorers in the Northern Pacific". The Wilson Bulletin 82: 471-472. Morgantown, W. VA: Wilson Ornithological Society
Layland, Michael. 2019. In Nature's Realm. Early Naturalists Explore Vancouver Island. Vancouver: Torchwood
Pearse, Theed. 1968. Birds of the Early Explorers in the Northern Pacific. Comox, B. C.: Gray's Publishers