Alexander Mackenzie
(1793)
Alexander Mackenzie (1764-1820) was born at Stornoway, Isle of Lewis, Scotland. His father emigrated to New York in 1774 and joined the British side during the Revolutionary War. Like many loyal British subjects, the family emigrated to Canada. Mackenzie was sent to school in Montreal in 1778. The following year he joined a Montreal-based fur-trading company. Mackenzie served in western Canada and worked his way up to partner. When his company joined the North West Company in 1787 he joined as a partner.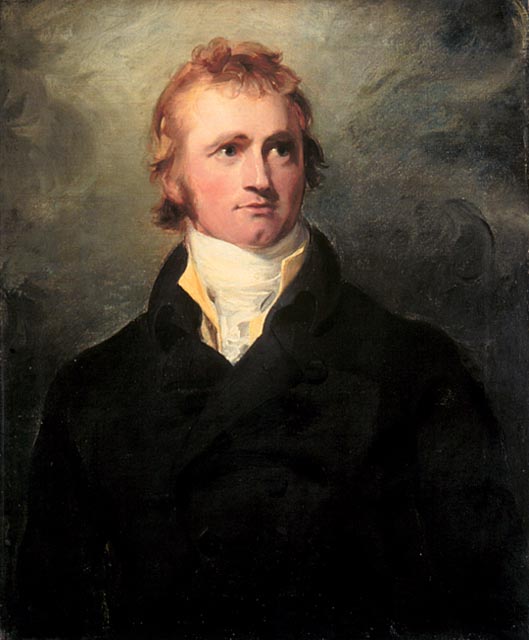 Alexander Mackenzie by Thomas Lawrence (c.1800), National Gallery of Canada (no. 8000)
In 1787 Mackenzie took charge of the company's far northwest, Athabaska Department. The following year he built Fort Chipewyan on the south shore of Lake Athabaska in extreme northeastern Alberta. Based at Fort Chipewyan he embarked on two major explorations to satisfy his urge to expand fur-trading in the northwest and to reach the Pacific Ocean. The first expedition led him on a 3,000 mile trip down the river which would bear his name to the arctic in the summer of 1789.
Failing to find the Pacific, he set out again in 1792. He traveled up the Peace River in October,1792. He overwintered at Fort Fork, established that year at the junction of the Smoky and Peace Rivers, at what is today Peace River Landing, Alberta.
In May, 1793 he set out on his momentous trip across the Rockies into British Columbia, reaching in the upper tributaries of the Fraser River in mid June, overland to the Bella Coola River and the Dean Channel, and down to the Pacific. Mackenzie painted his message on a rock on July 21, 1793 by the Pacific ocean and returned whence he came. He arrived back at Fort Chipewyan in late August after a trip of 2,300 miles.
Mackenzie noted that Indians on the coast of British Columbia mentioned the recent visit of other white men in "big canoes". It is likely that he missed the exploratory parties of George Vancouver's expedition which visited the area in late May, 1793.
Mackenzie's explorations were momentous undertakings. Kaye Lamb who wrote the Mackenzie biography for the Dictionary of Canadian Biography notes required "great physical strength, determination, and stamina". Unlike the Lewis and Clark's multi-purpose expedition to the Pacific in 1803-1806, Mackenzie's trip had essentially a single objective, reach the Pacific and return during the summer season. This meant long days that saw them embarking at 4:00 AM and toiling each day well into the evening.
Anyone who reads Mackenzie's simple account of his expedition cannot but be awe-struck that he kept a diary under extremely difficult circumstances. Pressing daily problems would have discouraged a lesser man: ensuring their food supply, the constant need to repair their deteriorating canoe, battling the privations of sand flies, black flies, mosquitoes and the elements, sleeping rough, lugging heavy packs over rocks, cutting new trails, navigating around, under and over fallen trees, through swamps and up mountain passes, constantly looking for new guides in unknown territory, keeping up the spirits of his increasingly apprehensive followers etc
Mackenzie notes that he never professed to be a naturalist:
I do not possess the science of the naturalist; and even if the qualifications of that character had been attained by me, its curious spirit would not have been gratified. I could not stop to dig into the earth, over whose surface I was compelled to pass with rapid steps; nor could I turn aside to collect the plants, which nature might have scattered on the way, when my thoughts were anxiously employed in making provision for the day that was passing over me.. (xxxvii)
It is not surprising then that his trip journal gives scant details of wildlife except occasional mention of mammals such as bison, elk and deer and salmon and other fish which were regularly sought out as a source of food.
Given the herculean physical demands of his expedition it is not surprising that birds are scarcely mentioned. However on a half dozen occasions he noted birds along the way. Quartered a Fort Fork, Alberta, in late December, 1792, he provides his most detailed bird description of White-winged Crossbills:
I was very much surprised on walking in the woods at such an inclement period of the year, to be saluted with the singing of birds, while they seemed by their vivacity to be actuated by the invigorating power of a more genial season. Of these birds the male was something less than a robin; part of his body is of a delicate fawn colour, and his neck, breast and belly, of a deep scarlet; the wings are black, edged with fawn colour, and two white stripes running across them; the tail is variegated, and the head crowned with a tuft. The female is smaller than the male, and of a fawn colour throughout, except on the neck, which is enlivened by a hue of glossy yellow. (Journals: 21-22)
Once the party left for the Pacific in May, birds were rarely mentioned. Other specific birds that can be identified are "white-headed eagles" (Bald Eagles) on the Bella Coola in British Columbia and "Canada Geese" recorded on the Peace River in Alberta on his return journey in 1793.
Much more common entries in Journals were incidental notations such a "a pair of cormorants" (Double-crested Cormorant) in the upper Peace River on May 18 and "swans, geese and ducks ...blue jays, yellow birds, and one beautiful hummingbird near the continental divide on June 11, 1793. Reference to "ducks", "gulls" and "grouse" are even more obscure.
Given the singular purpose of his exploration Mackenzie did not collect any bird specimens. His minimal sight observations added little to Canadian ornithology. On the other hand a few observations established the first provincial presence of the following birds: Bald Eagles in British Columbia and Canada Geese, Double-crested Cormorants and White-winged Crossbills in Alberta.
Mackenzie's arctic and pacific explorations at the end of the 18th century helped to fill in the geographic map of the least known parts of interior Canada. In the early 19th century he was followed by fellow Northwest Company explorers Simon Fraser and David Thompson. They were to open up more southerly routes through the Rockies into the Columbia River watershed of British Colombia which soon became known as New Caledonia.
Bibliography
Lamb, W. Kaye. 2021. "Mackenzie, Alexander" Dictionary of Canadian Biography Toronto: University of Toronto Press
Mackenzie, Alexander. 1801. The Journals of Alexander Mackenzie: Exploring Across Canada in 1789 & 1793. London: E. Noble